Game on as Baronscourt savours venison success
Baronscourt Estate in County Tyrone has one of the largest herds of pure Sika deer in Ireland with the gentle flavours of its naturally wild venison recently seducing the UK's Guild of Fine Foods equivalent of the Booker prize'. As part of Northern Ireland Year of Food and Drink 2016, Lord Hamilton, who is directly involved in the running of Baronscourt's game food business, speaks of his love for the 400-year-old Estate which is also his ancestral home.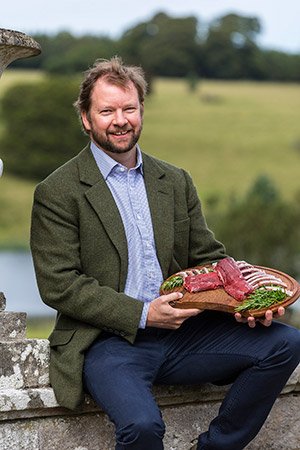 Lord (Jamie) Hamilton loves to cook for his young family who are all "huge venison fans" and – happily coinciding with August's 'Love NI Meat' – reveals their "special meal" features freshly prepared venison French rack.
Asked what he loves most about Baronscourt, historic seat of the Duke of Abercorn since 1612 located in the foothills of the Sperrins at Newtownstewart, Lord Hamilton said: "It is very hard to point to a single facet that I love most about Baronscourt Estate but it's essentially the people whom I work with and the community that I live within, as without them the Estate would not be as it is.
"I am particularly proud of our game food business as the growth in venison sales is something we have really excelled at in a very short period of time. Providing a really healthy, sustainable food which has been awarded such great feedback and commendation from the top food judges in the UK has been very gratifying.
"The most popular venison product we produce is the venison loin because it is simply the most delicious cut and full of flavour and has enjoyed great success having gained some notable awards in the Great Taste Awards. It was a 3 Gold Star Winner in 2014 and a Top 50 Food."
Further commendation followed in 2015 and just recently Barsonscourt Estate was again awarded in 2016 one gold star for its renowned venison French rack.
Lord Hamilton continued: "It is also wonderful to be able to supply all the top restaurants in Northern Ireland and see our produce on their menus. I am passionate about food and sourcing local seasonal produce. I also love to cook, especially for a young family who are all huge venison fans."
Asked to describe his own favourite dish, he revealed: "For a special meal it would be the venison French rack, flash seared for a few minutes, then into a hot oven for 15 minutes, rested for 10 minutes then served with roasted potatoes, celeriac mash and red cabbage."
Baronscourt's lakes, pasture, woodlands and heather moorland provide the ideal habitat for the highly prized Sika deer to live and breed. Throughout the year they feed on succulent myrtle bog, ryegrass and tasty saplings which are naturally free of any additives or growth promoters.
The Estate has been producing game and venison for the commercial market for a number of years and recently invested in facilities to improve its packaging and labelling, as well as being able to produce more sophisticated cuts and products such as the French rack of venison and burgers and sausages.
The Sika deer is renowned for its flavour, often said to be milder in strength than the more readily available commercial venison from Red deer, leading to a gentler, rounder flavour. While Baronscourt has always enjoyed a local demand for its venison, Lord Hamilton said: "Increased consumer appreciation and demand for food that has been produced sustainably without any additives or subjected to any intense rearing practices, combined with its high nutritional value and healthy characteristics, has increased the popularity of venison. In addition, the rise in popularity of TV cookery shows and celebrity chefs has led to consumers becoming more confident in cooking less well known foods and learning just how easy it is to cook game."
Explaining the importance of sustainability for the business, Lord Hamilton continued: "The Estate is over 400 years old and we are very much planning for the next 400 years! Sustainability runs through everything we do, whether it is through our forest management which is undertaken in accordance with Continuous Cover Forestry management principles, to the rearing of game on the Estate for sporting purposes.
"We believe very strongly in ensuring that our game is reared to the highest possible welfare standards and that all game harvested from the Estate is processed and brought into the food chain to ensure that nothing is wasted. A sustainable approach to all that we do ensures that we can continue to achieve the environmental and commercial objectives of the Estate, and continue to offer employment to the local community."
Baronscourt's venison and game is supplied to individuals, restaurants and wholesalers throughout Northern Ireland, with products also sold into other markets such as the Republic of Ireland and Great Britain.
"We have in the past supplied the prestigious Fortnum and Mason store in London, who experienced huge demand for our wild venison," said Lord Hamilton, who added that traceability is also paramount.
"Baronscourt is one of only a handful of estates to operate a fully Approved Game Handling Establishment which is licensed under European Union legislation, is approved and audited by the Food Standards Agency and is subjected to weekly checks by the Veterinary Public Health Unit of the Department of Agriculture. It is this chain of custody which is so important to both us and our customers and we have invested heavily over the years to ensure we are compliant with the regulations."
Lord Hamilton acknowledged that the culling of deer can be an emotive issue for many people.
"For those who are perhaps adverse to eating venison because of the beauty of the deer, they should understand that those of us who live and work on the Estate are the strongest advocates for the preservation of the deer and the protection of their health.
"However, like all things in life a balance must be struck and, given the Sika deer's ability to reproduce prolifically in this part of the world, the numbers have to be controlled in order to reduce the substantial damage they can cause to trees, crops belonging to both the Estate and our neighbouring farmers, and the risks to life posed to those who travel the roads in the vicinity of the Estate.
"In addition, a deer herd left uncontrolled can increase to levels which can cause damage to the overall health of the herd itself due to their forage habitats becoming over-exploited, leading to a decline in the condition of the animals.
"We closely monitor the condition of the health and size of the herd on an annual basis. Culling the deer is an essential part of what we do and we believe strongly it is our responsibility to ensure that all animals culled are not done so in vain, and by investing in both our Estate employees and our facilities we have created a viable business which means that the meat can be enjoyed by many in a safe and sustainable way."
He continued: "The Estate has a small team of gamekeepers who oversee the management of the herd and we are fortunate to be supported by a number of friends of the Estate who enjoy stalking and assist us with the annual cull. All of those carrying out the deer management activity are fully qualified, possessing either the Deerstalking Certificate Level 1 or Level 2, or both qualifications, and are legally permitted to possess and use the appropriate firearms to humanely carry out the cull. We also welcome visitors from around the world who come to stalk the elusive and highly prized Sika deer."
Baronscourt Estate has two self-catering holiday cottages – the Governor's Lodge and the Clock Tower – located in the historic Stable Yard. Tourists staying on the Estate can enjoy walks around the grounds and, by private arrangement, avail of tours of the House and Gardens.
"The Ulster Way crosses the Estate and this is popular with hikers and walkers alike. We also have salmon fishing on the River Mourne and pike fishing on the lakes on the Estate. We welcome visitors from Europe and further afield who come stalking or shooting and we focus on ensuring that our offering is the very best it can be and have established a reputation for excellence as a result.
"The food offering plays a large part in this as clearly Northern Ireland is becoming widely acknowledged as the home of great food and we are proud to be able to play our part in this story through our game and venison.
"The Estate's salmon fishery includes the famous Snaa pool where the salmon rivers of the Strule and the Derg meet to form the River Mourne and 2016 has so far been an excellent year, with salmon up to 20lbs in weight having been caught.
"Our anglers come from throughout Northern Ireland, the Republic of Ireland and as far away as France and the USA. Whilst we can never guarantee they will leave having caught a fish, our guests always leave having had a memorable experience on the Estate!"
Mary Blake, Tourism Development Officer with Derry City and Strabane District Council which is actively supporting Tourism NI's year-long campaign through a range of events and initiatives, paid tribute to Baronscourt's success with its award-winning local venison and key role in promoting the area as an international tourist destination, attracting hundreds of visitors each year.
Our Location
Baronscourt,
Newtownstewart,
Omagh,
Co. Tyrone,
Northern Ireland,
BT78 4EZ
T: +44 (0) 28 8166 1683
F: +44 (0) 28 8166 2059
E: info@barons-court.com